Tour Overview
This 3 Day trip will take you to Uganda's largest parks known as Murchison Falls National Park, situated in Northwestern Uganda on an area of 3,840 sq km, gazetted in 1926 as a game reserve.
Detailed Itinerary
Day 1: Rhino Sanctuary and sunset views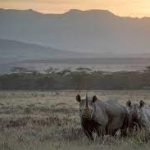 On your way to Masindi from Kampala, branch off in Nakitoma – Nakasongola for a visit to the Ziwa Rhino Sanctuary for a guided walk to get up close with the rhinoceros, later enjoy a nature walk followed by a picnic lunch.
Proceed to the Murchison Park, check in to your accommodation later, take a sunset cruise on the River Nile or drive to the top of the falls where you can view both Murchison and the smaller Uhuru falls as the sun slowly descends.
Day 2: Game Drive and Launch Trip
Make the most of the morning by taking the 7am ferry to begin your game drive in Buligi. The area is a home to many cats including the Jungle boss, lions, as well as elephants, giraffes and other wildlife. After lunch, embark on the three-hour launch trip to the base of the falls. Cruise past huge hippo pods, crocodiles, bathing buffalo and numerous aquatic birds adorning the north bank on the way to the mighty waterfall. Dinner and breakfast.
Day 3: Chimp Tracking or Birding in Budongo Forest
Meet our distant cousins! Get an early start to catch chimps leaving their nests in the Budongo Forest, looking out for other primates and forest bird species along the way?
Alternatively, walk with an experienced guide along the renowned "Royal Mile" for some spectacular birding – over 360 species inhabit this forest stretch.
Return to Kampala
Important Information
Price Includes
Round trip transfers to and fro.
Accommodation.
Breakfast daily.
Day touring as per the itinerary.
An English speaking guide
Price Excludes
Visa and air ticket
Optional activities
Other drinks other than water
Souvenirs, Laundry & Tips (optional)
Terms & Conditions
Please note: Prices in the quote are "from", per person, based on 2 adults and 2 children (under the age of 12) sharing, and include all taxes. Subject to availability.