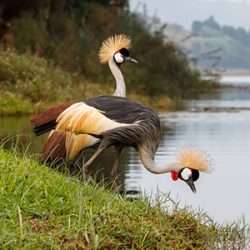 Who We Are
Nyange Trails Africa Safaris is a newly set up tour and travel company based in Kampala, Uganda. We have made it our business to offer world-class services to travelers and tourists to Uganda and East Africa at large. 
Trails Africa is run by Ms. Agnes Kemigisa who has served Uganda Tourism Board as a marketing executive for 5 years. Agnes has been at the helm of developing some of Uganda's unique products.
Trails Africa, "enchanting encounters"
Why Choose Trails Africa
We value our clients' Travel Investment
We understand that our clients put in a lot of efforts to save their resources to travel; we therefore make it our sole objective to guarantee memorable experiences by ensuring quality service delivery. We operate on a 24 hour basis to cater for the difference in time zones. We respond to our clients' queries within 12 hours, the first of its kind service in Uganda.
Trails Africa subscribes to numerous international and local associations to guarantee security for your travel investment. To avoid smart traveler scenarios we encourage our travelers to Africa to work with us.
We accept all major credit cards, wire transfers, and checks into our international bank accounts, saving you the costs of currency exchange and international money transfers.
Experience in the region
Having served the industry for 5 years, the Managing Director of Trails is well versed with intimate knowledge of the cultures, history and trends of East Africa. In addition, Trails Arica has a team of well trained personnel to handle clients from across the globe. We periodically visit and inspect our partners in providing you this service including hotels and destinations. We pride in developing and creating some of the region's most revered itineraries with a personal touch and spiced-up with a range of experiential activities that can hardly be forgotten. We listen to our clients' wish list and simply give it our signature touch up of a wider product base. Our unmatched in-depth knowledge allows us to leave that mark of your African Voyage, assured to last you a lifetime.
Expert Guides
The most memorable safaris depend solely on a great guide. Trails Africa focuses on the professionalism of our guides. Firstly we work with certified guides who are recognized by the regulator, Uganda tourism Board and secondly our guides under-go periodic training to bring them up to speed with latest trends. Our guides speak a variety of languages including English, German, French, and Spanish and we can always arrange for other languages given prior notice. Since we are based in the world's number 1 country on ethnic diversity, our guides speak some of the languages the country and the region at large, so be assured to leave Uganda with over 10 different ways to greet and bid farewell.
The Best Pricing
Because of our wide relations within the tourism sector, we offer highly competitive rates to our clients. We have partnerships with some of Uganda's leading accommodation facilities, cultural groups and facility owners. Our dedication is to securing the best prices while delivering impeccable services. Our pricing is also classified into high-end, mid-range and budget to cater for all our clientele.
We know that travelling is exhausting. Therefore we make sure that our 4 wheel drives offer you comfort and a good view of the surrounding beauty. In addition through our extensive network of hotels, lodges and campsites all over Uganda we make sure we place you in the type of accommodation that you desire. Be it luxury, eco-lodge or budget campsite, we know the perfect place.